Contact Lenses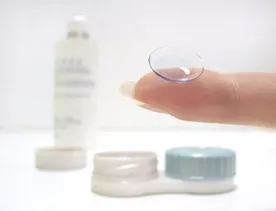 Although vision correction is important, sometimes glasses don't always fit in with your sense of style or active life. Fortunately you don't have to choose between wearing glasses and seeing well. Contact lenses are a great option for either daily vision correction or for special occasions and sports.

Just like eyeglasses, contact lenses can be used to correct most refractive conditions including myopia, hyperopia, and astigmatism. They are a popular choice because they are convenient and effective, great for sports, work, and play.
Contact lenses are medical devices, and should be properly fit by an optometrist to ensure that they not only provide you with clear vision, but do so safely.
Contact us for an appointment to determine if contacts are a good fit for your lifestyle and vision needs.
Our staff is here to help you find a pair of contact lenses that will correct your vision while remaining comfortable and easy to care for. Contact lenses are made from either a soft disposible material or a rigid gas permeable material and are available in several replacement schedules including monthly, bi-weekly, and daily disposible - a fresh pair every day.